Affordable Cabinet Solutions To Add Value to Your Kitchen
Posted by Brittany Rondot on Monday, October 13, 2014 at 5:32 PM
By Brittany Rondot / October 13, 2014
Comment
In today's fast paced world, the cliché stating "Home is Where the Heart Is," has never been truer. There are inexpensive and convenient ways to improve your home in every aspect. If you are getting ready to sell your house in the Louisville real estate market, then it is critical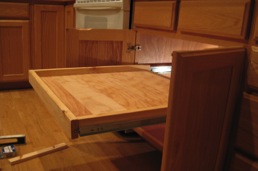 you make the most out of your kitchen so buyers feel at home in the room. Renovate and update your kitchen by adding pullout shelves to your cabinets, a roll-out trash can in your pantry, and get gliding shelves installed in the current spaces that can't be fully utilized with convenience and ease. When it comes to shelving installation, pullout shelves are one of the most popular cabinet solutions in today's contemporary kitchens. They are affordable, durable, fit for every budget, and can even be customized to work with the cabinets you already have. You can choose everything about the shelves, from the number, to the wood grain, staining, hardware, and type of organization you desire. Having this type of customization adds to the value of your home if you decide later on you want to list your home for sale in Louisville.

What Does the Kitchen Really Need?

Since kitchen cabinet shelves aren't your only option for making the most out of your kitchen, you can begin thinking about what else you would like to be able to keep in your kitchen pantry if you had full use of the whole space. Having sliding shelves installed in your kitchen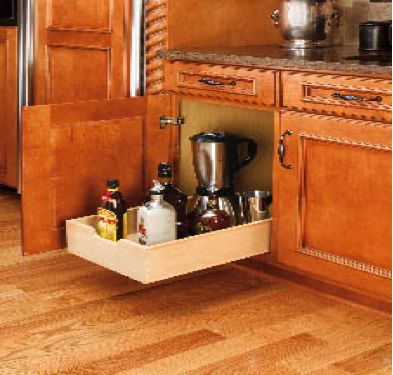 pantry and other storage locations within your kitchen will open up the cabinets and countertops in a way you've never imagined before. You will be able to demonstrate to buyers how they will be able to completely use every inch of kitchen shelf space and storage space. Ensure the pullout shelves you choose are made with high quality materials. When you get good ones installed or customized to your existing kitchen, you can count on long-lasting stability. Storage will be easy for those heavy items like stacks of dishes, pots, pans, and small appliances. If you want a single shelf in the cabinet under your sink for a trashcan or several smaller shelves in the pantry to arrange all of your canned goods, you can do it.

Similar Designs in Neutral Colors Attract Buyers

After deciding where and how many shelves you need, it will be time to decide on the specific customizable cabinet solutions you are seeking for your kitchen. This means deciding on the type of hardware; durable chrome, shiny brass, or satin nickel. Wood grain shelves are available in a vast array of options to match your kitchen and surrounding décor and floor. This includes oak, beech, ply Birchwood, and maple. Staining the wood in the color you prefer is easy to do or have the professionals do for you. When everything in the kitchen blends in well in neutral colors, then buyers will me more prone to keep your home in their choices.

Improving Organization for Easy Living

Think about all the different ways you can improve upon your kitchen storage space to give
the ability to allow for open countertops and other surfaces. Homeowners can accomplish all of this without breaking the bank. In awkward cabinet styles that are located in corners, you can get gliding shelves. If you have cabinet space that barely gets used or not at all because you can't reach the back of that cabinet, pullout shelves is the solution to add value to the space. Organization becomes simple to accomplish with use of shelves and other easy kitchen tools available today. A practical, attractive kitchen with modern conveniences is what buyers are seeking today. Living should be easy in the most important room of the house. For instance, when cooking or baking, you want to find what you need without having to move aside half your pots and pans just to get to a baking dish in the back. If you could slide out a shelf, grab what you need, and slide the shelf back in; life would be easier.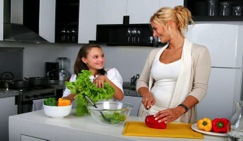 If you are looking for additional ways to renovate your kitchen or just looking for ways to update your home on the cheap for the house you are selling in the Louisville real estate market, we recommend you visit:
DIY Network: Kitchen Facelift Fix it Up!
AOL Real Estate: Minor Kitchen Renovations to Help You Sell Your Home
Bankrate: 10 cheap fixes to boost the value of your home

About the Author: Brittany Rondot is the Team Manager of the Brad Long Real Estate Group and would be happy to help you with any of your real estate needs.